Published on Mizzou Show Me News August 19, 2021
Jesus Oropeza says he just got lucky, but hard work has a lot to do with it.
Growing up in Brookfield, Missouri, Oropeza's childhood wasn't always a happy one. He was bullied, sometimes violently. His mom worked hard at a factory and still struggled to make ends meet. After their house burned down, they were homeless for a time.
Oropeza had no intention of going to college. "I jokingly applied," he says. "I thought there's no way I'm getting in. So I said, you know, what's the worst that can happen?"
He was making ramen noodles when his mom came in with the mail and handed him a large envelope from the University of Missouri. After opening the acceptance letter, Oropeza was confused — and then scared. How was he going to pay for school? A few weeks later, he got an email: Do you want a free laptop, a free suit and study abroad scholarships? "I thought it was a scam," he recalls. "Turns out it was very real."
Oropeza had been selected for the inaugural class of Trulaske's Heartland Scholars Academy, which was established in 2018 with a donation from Sue, BS BA '75, MBA '77, and Irl Engelhardt. The academy annually gives 10 first-generation freshmen from rural Missouri and southern Illinois support to succeed in the business world through a variety of activities over four years. "The amount of luck was obscenely high," Oropeza says.
Oropeza showed up to move-in day by himself — his mom had to work — and was greeted by a sea of families. "I'm like, alright, none of these people are like me. This is weird. I'm going to drop out," he recalls. "But I had $13,000 in loans looking at my name."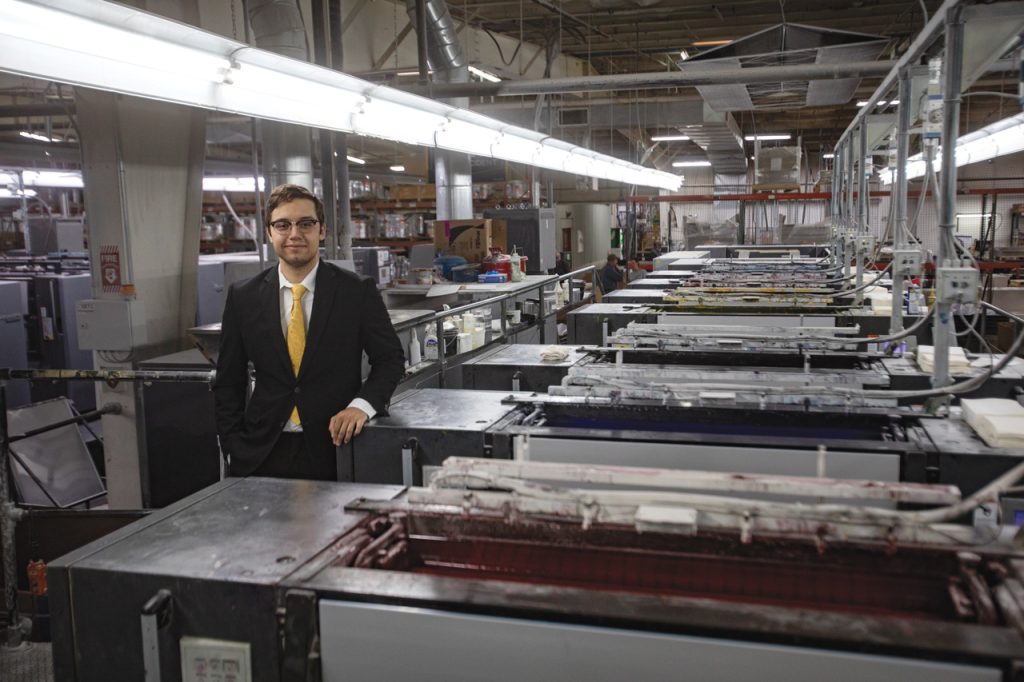 The first time Oropeza felt like he belonged at Mizzou was in the Heartland Scholars Academy seminar class, whose purpose is to inspire confidence and overcome imposter syndrome. "A lot of times first-gen kids think: 'I don't fit in. I don't have the network and experiences other students have,' " says Marrs, who also directs the Heartland program. "This leads to a lack of confidence in their ability to be successful at a place like Mizzou." So, Marrs brings in successful alumni who were also first-generation students from small Missouri towns. She hosts etiquette dinners, mock interviews and study halls. They do case studies and go on corporate trips to Kansas City, St. Louis and Chicago.
In October 2018, only nine weeks into his freshman year, Oropeza was on stage at a Davenport Society banquet telling the giving-society members that he'd found community in the Heartland Scholars Academy; that without it, he would be lost; that he has hope. After a speech at a similar event for MU's Jefferson Club in Naples, Florida, he was approached by Don Walsworth, BS Ed '57, CEO of Walsworth Publishing Co., in Marceline, Missouri. Walsworth offered him a job, and, for the next two summers, Oropeza interned at the company, first in operations, then management.
Now a senior finance major, Oropeza has interned as a business analyst at Fidelity Investments; found a mentor in Nathaniel Laroche, a VP at Stifel Financial Corp.; and is preparing to sit for the chartered financial analyst exam. "This genuinely changed my life," he says. "I know people, I've seen things that I probably wouldn't have experienced throughout my entire life. If you try hard enough and get lucky enough, just about anything is possible."