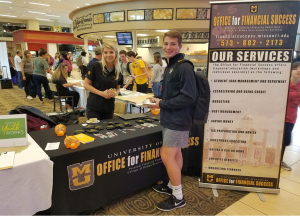 Cashiers Office
View and understand student charges, balances, and bills. See the balance and pay bill at Touchnet (student must grant access to parents/family members). Billing questions? Email us at 4cash@missouri.edu
Financial Aid
Understand financial aid, loans, scholarships and grants. Contact Student Financial Aid with questions. Email us at MizzouSFA@missouri.edu.
eConsent
Electronic consent allows students to use the online myZou system to register for classes and manage their schedules and accounts.
Additional Authorized Access (AAA)
Once a student has accepted eConsent they have the option to designate additional authorized access (AAA) to other individuals (typically a parent or guardian). AAA allows the individual to access information in the students' account regarding academics, financial aid, and directory information.
TouchNet Authorized User
A student will need to grant other individuals (typically a parent or a guardian) access to TouchNet in order to view monthly billing statements, account activity, 1098T Form and to make payments. This access is different than the Additional Authorized Access (AAA). We recommend setting individuals up in both systems.
Free Application for Federal Student Aid (FAFSA)
The FAFSA is used by the Department of Education and MU to determine a student's eligibility for federal, state and institutional financial aid, including grants, educational loans and work-study programs. Students must apply annually. Mizzou's priority date is Jan. 7.
Work Study
Federal Work-Study (FWS) provides part-time employment to students with financial need, allowing them to earn money to help pay education expenses. For more information on FWS eligibility click here.
Student Employment
The MU Career Center helps students with employment needs including part-time and work study jobs, internships or a full-time job post-graduation.
Financial Well-being
The Office for Financial Success (OFS) is a free and confidential resource for your student to discuss personal financial management.